I've been awake since 4am, so I thought I might as well update my blog. Last nite found me snuggled up for bed really early, as I'd only had about 4 hrs sleep the nite before and I just couldn't keep my eyes open any longer.
I spent a good couple of hours talking to my mate Sharron on msn, before I went to bed. We had so much catching up to do, I couldn't believe her and her hubby Martin have been together for 15yrs now...how time flies. It seems like we'll be meeting up much sooner than I expected as Sharron doesn't want to wait till we go the Midlands next month, so is coming to visit me instead whoooo !! Although both she and I lead a much more sedate lifestyle now, once upon a time she and I used to paint the town red almost every nite, looking back god knows how we managed it, but we did lol. So I'm sure we'll be spending some of the time reminissing about the mad, wild days long gone now lol. Sharron is one of those friends you make in life, who you know you've got a special bond with, and no matter how many years go past when you're apart, that bond will never be broken. We've both vowed this time we won't lose contact again !!
I also caught up with my mate Caz yesterday morning on msn. Her and her cousin Rich and I, all used to go to school together ...more years ago than I care to remember lol. As they both live in Cornwall we're planning to met up when I go to Falmouth for my sons wedding.
This year seems to be a time for blasts from the past for me. Already this year there's been Eilidh, the daughter of an ex who used to live with me, a very close male friend, who is a very private person so I shan't say his name, and now Sharron. I don't think they'll be any more people popping up from my past, although there is a friend from my old home town I'd like to be in touch with again. We shall see if fate throws that friend up again in time I expect.
My daughter Jenny who lives with me, is off to Manchester for 3 days on Weds, so I shall have to make sure that I've got everything I might need while she's away. Luckily today is my fortnightly shopping day, so it shouldn't be a problem. I've also got to streak her hair some time today too, I was going to do it last nite but her pc was playing up really badly last nite, so her hair got forgotten ( by me anyway ) in that drama and by the time she popped her head round the door to ask me to do it, I was already snuggled up ready for the land of nod ....sorry Jen.
My friend Sharron and her hubby Martin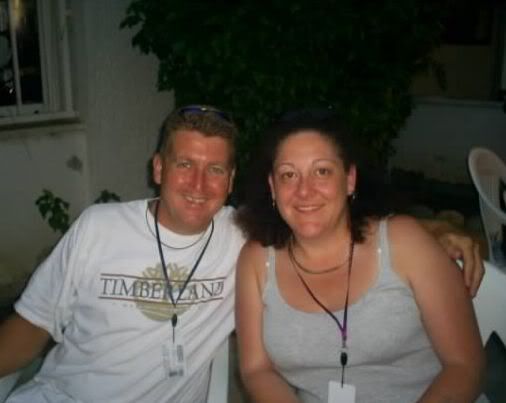 Me and Sharron when we last met up at my daughter Emma's engagement party 8 yrs ago.