Yet again time has flown by, and a whole week has gone without me updating my blog ...whoops !!
It's been a pretty productive week though, I managed to get the large oil painting I was doing finished at last, and up on the front room wall. I decided to add some small glass tiles to it so that it fit in even better with my front room, and I'm pretty pleased with the end result I have to say. I also carried on doing another project I started a while ago before my motivation left me. This time it's a half sized violin which I'm decorating with an assortment of tempered glass, stained glass and tiny seed beads. This is a pretty fiddly mosaic as the violin has such acute curves on the sides, so I have to do a little and then wait while the glue dries, very annoying lol. I've also got an idea for a 2nd oil painting I want to do for another wall in the front room.
I had a lovely day yesterday, a friend of mine Bee and her son H, who live in Liverpool came to visit for the day. As she's very fond of ancient momuments, we went to see the burial chamber Bryn Celli Ddu near Llandaniel. My lack of mobility stopped me from getting right to it sadly. Afterwards we stopped off at Cable Bay for a picnic, and then on to Rhosneigr where we spent a pleasant hour or two. While we were there a couple of horses with rigs made an appearance, so that was a nice photo opportunity for me.
Anyway here's the oil painting in situ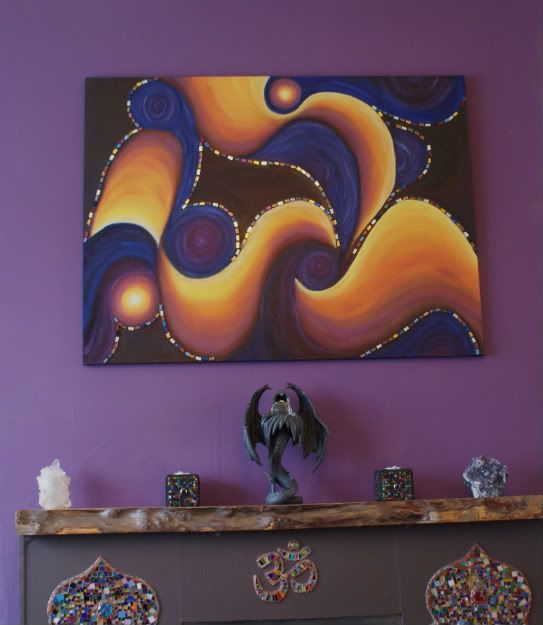 My friend Bee and her son H.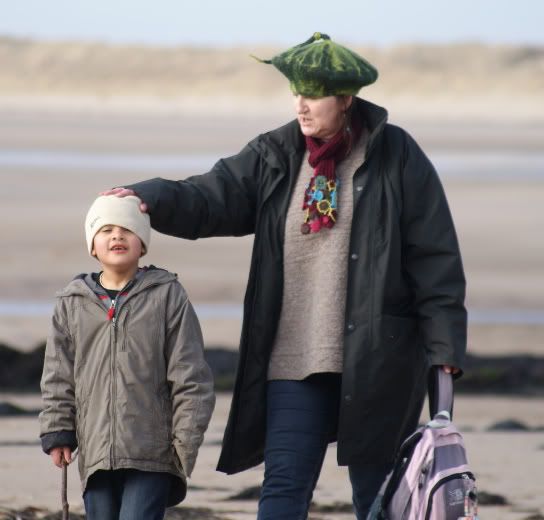 The horses and rigs at Rhosneigr beach.