It's been quite a busy time here this last few weeks, one way and another. Since I last updated my blog we've had 2 fishing trips, my youngest grand daughters christening, a trip go carting, my birthday and my daughter getting 4 weeks work experience at a tattoo shop ...not bad for a sleepy little back water eh lol.
Since my daughter showed an interest in fishing, I've wanted to take her up to Holyhead Breakwater for a fishing session, as I knew we'd catch some fish even though they'd be small ones. A few Sundays ago we actually managed to get up there, and as I hoped we actually caught some fish, much to my daughters delight. She caught 3 wrasse, one was a particularly pretty shade of green, a pollack and a crab, whereas I caught 2 pollack, a blenny and a crab lol. We really enjoyed ourselves and came away feeling extremely relaxed, all the fish were safely returned and all our mess was cleaned up and taken with us. The 2nd fishing trip was last weekend when a we had family and friends here visiting for my youngest grand daughters christening. Yet another trip to the Breakwater of course, and there was fierce competition between the men and women !! The first and biggest fish of the day was caught by my 15yr old grand daughter Raggz a good sized wrasse, not bad for her first attempt. More fish were pulled out including a scorpion fish by my other daughter Jenny, some pollack by the lads and nothing from me !!! It ended up as a 3 all draw, which wasn't bad as it was quite a short fishing session :o) My son Ben brought with him loads of fishing tackle for us, so with what had already been given to us by a good friend of mine, we had more than enough rods and reels to go round everyone.
The next day was the christening of my 6 month old grand daughter Kacey Louise. Anyone that knows me, knows that I'm not too keen on anything to do with religion, churches, sermons or anything else along those lines. The christening was in with the usual church service, and this made the whole thing a very long drawn out affair, of over 1.5hrs, probably closer to 2hrs. During one of her sermons the vicar mentioned how good it was to see so many young people there and that the church worried how few young people attended church services these days. In all honesty if this was typical of a church service these days, I'm not surprised !! For starters, it was way too long, the christening only accounted for approx 20 mins of the time we were there, there was nothing in the service that that any of the younger people there could relate to whatsoever, so very little chance of them wanting to go back again, and lastly there were only two hymn books between 10 of us, so even if we wanted to join in there was no chance !!! I have to say my grand daughter behaved beautifully, and had a good few of us in fits of giggles with the expressions on her face looking at the various comings and goings of the vicar, and the choir. After the service it was off to a nearby pub for the get together afterwards. As there was only one out of 10 of us that drinks, we didn't stay too long. Once back at my house it was decided to go off go carting, before everyone set off on their long journey home.
There's a local go carting track called
Cartio Mon Karting
, so we all headed off there. My daughter and I had seen this place from the A55 many many times, but this was our first visit. I have to say I was extremely impressed, all the staff there were very friendly, helpful and all aspects of safety on the track were covered very well. I can also highly recommend the cafe on site. It was very very clean, had large windows to watch the go carting through and the drinks and food were very good !!! It was all reasonably priced too. Some of the people with us were regulars to larger go carting tracks down in the Midlands and said that this track compared very favourably to those down there.
My youngest daughter who lives at home with me, is very interested in tattooing as a few of you will know from reading my blog. Four weeks ago she was lucky enough to be given 4 weeks work experience at
Redskins Tattoo shop
in Bangor. After her initial misgivings about her ability to actually cope with this, she really enjoyed her time there, and was extremely sad to leave last Tuesday. The tattooists and the owner of the shop were also very sad to see her go too, but couldn't afford to take her on, so they are looking into to seeing if there is any chance of them getting funding to keep her there for a longer period of time. I'll be keeping my fingers and toes crossed for this to happen, as I've watched my daughter bloom, and grow this last 4 weeks, and have never seen her so happy and content for a long long time.
The last thing to report was my birthday last Thurs, I had a fantastic day and was thoroughly spoilt by the amazing presents I got, thank you everyone for making it such a special day :o)
This first photo says it all, the look on my daughters face when she caught a fish was a cracker lol.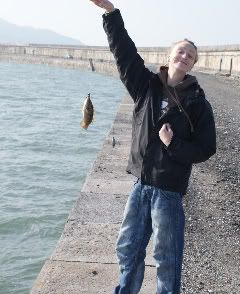 My lovely little grand daughter Kacey, wearing the christening dress that was her moms before her.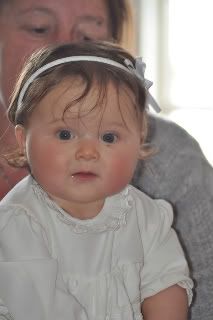 The gang ready to hit the track go karting.