I've had a couple of busy weeks, getting some pendants in the gallery ready for the Christmas rush ...we hope. Also doing another 35 pendants for stock, for when I'll be doing my website in the new year hopefully. I've also done a first for me, a tempered glass mosaic, this will be one of many I'll be doing I hope as I've got tons of idea's for mirrors and panels. This one is bright and colourful so it's been called a rainbow mirror. I've included a photo at the end of my blog for you.
Along with the pendants I've made ready to go in the kiln tomorrow, I've also made a panel for us for the front room. I'm praying this comes out ok, which there isn't any guarantee's. Glass has a mind of it's own once you put it in a kiln and heat it up, and something that looks great before it's fused, can sometimes come out looking a right mess lol. Fingers crossed this won't happen to this one, as our walls are still looking quite bare here. I've put a before photo of the panel, and good or bad I'll put an after photo up later in the week too. To add some interest to this panel, I've used, metal inclusions and also some copper collars which are usually used by plumbers. I've filled these collars up with frit, which I hope will add some more detail.
The last couple of weeks has seen us hit by torrential rain and gale force winds as has most of the country. The rivers have turned into raging torrents and I'm sure the waterfalls up in Snowdonia will huge. We went to the beach a couple of times for high tide and it was spectacular. The waves had crashed so much against walls and rocks the whole part of the top of our favourite beach was smothered in foam, which flew up and onto the path and made it look like it had been snowing. I've taken a few photo's so I'll put them up with my next post. Now its all calmed down and I've seen the first sprinkling of snow on the mountains, quite early really compared to the last few years.
My first tempered glass mosaic mirror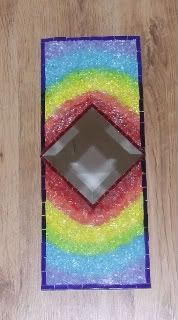 A close up of the mirror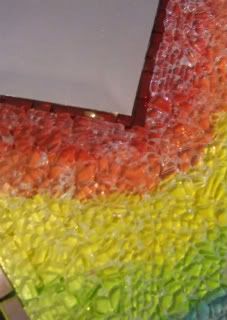 The panel for my front room ...I hope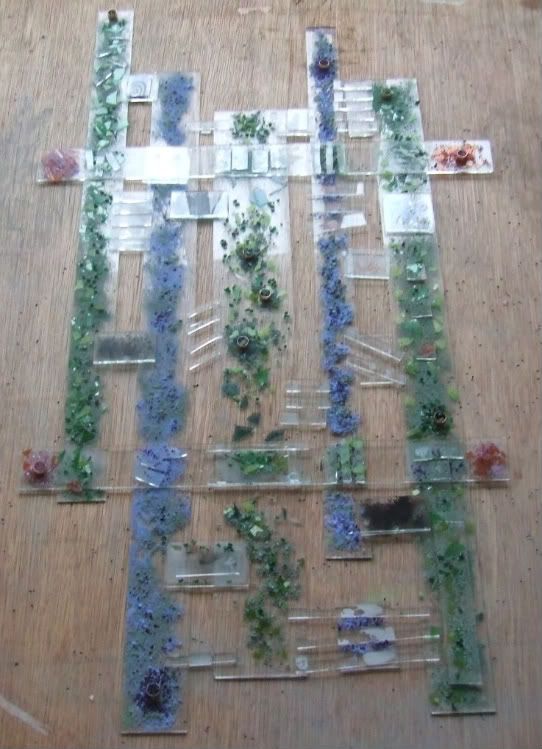 A further photo with the flash