With the best will in the world, the delay in writing my blog wasn't actually my fault this time ..... well not directly !! After having a fantastic week in Lancaster with my fella Jim, and meeting two of his lovely girls and some of his grand kids.I suddenly started feeling unwell. Expecting to be able to shrug off whatever had struck me down in a couple of days, I ignored it as I usually do. In this case that wasn't the best idea at all. I became really poorly and a kidney infection was diagnosed and antibiotics prescribed.
At one point I hadn't eaten for almost a week, had such a high temperature I thought I was cold when I was in fact burning up, and visa versa. When the antibiotics didn't seem to be working, both Jim and I were getting pretty worried, I decided I needed to get home and see my own doctor. With a lot of effort from my son Ben, he managed to get one of my other sons Dan to come up from the Midlands to Lancaster and brought me and Jim back to Anglesey, and an appointment was swiftly made for me at my doctors. She agreed with the previous diagnosis but said that she was going to give me another antibiotic as sometimes some infections become immune to them.
Another two days of tablets and I was still really ill, I couldn't eat or drink anything, and I had visions of me ending up in hospital. Then finally they started to take effect and I was able to eat and drink something at last. Even now the infection has gone, I'm still feeling very tired and haven't got any energy. But that will sort itself out given time I'm sure.
I honestly don't know how I would have coped without my lovely Jim. He was there constantly for me, and nothing was too much trouble, so I want to publicly say a huge thank you Jim, love you loads.
Once I was well on the mend, we decided a breath of fresh air would do me the world of good, and for once the weather was on our side. So we set off to the nearest beach that I can get to on my scooter and Jim cooked us breakfast on the beach. We enjoyed ourselves so much we decided as the weather was holding we'd go off on another trek the following day too. This time we headed down to Menai Bridge, taking the scenic route. I'm ashamed to say that Jim is already more familiar with pretty ways to get to places than I am !! We had a 5 mile round trip in the end, and on the way saw some amazing fungi, a view of Menai Bridge that I hadn't seen before and had lunch at the pier this time.
One thing that has become more apparent on these two jaunts is how bad Anglesey's footpaths are for the disabled !! So maybe Anglesey Council should forget putting speed humps that they've got funding for and spend it on something that REALLY needs doing !!! On a couple of occasions Jim had to literally bump my scooter down off a path because I couldn't ride the scooter down. If I'd have been on my own, there's no way I'd have managed to do it on my own !!
Here are a few photo's I took while we were out and about.
Jim cooking breakfast on the beach yummm.
A huge fungi that was about 3 1/2 ft across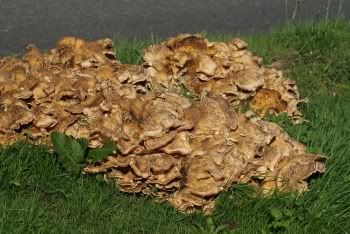 A lovely view of Menai Bridge
One of those arhhhhh photo's.