It only feels like I wrote in my blog yesterday, but I see it was in fact 3 days ago....where's the week gone ?
I decided a couple of days ago, that I would try and improve how far I can walk. I've been encouraged to try and do this by my doctor, a physiotherapist and my own daughter, but finding the motivation can be very hard especially when you know that if you push yourself you're going to end up in more pain than usual. But after my day out it made me realise what I might have missed by not pushing myself, and that would have been a shame, even though I was in quite a lot of pain that day and the next. But by showing me somewhere he'd like to take me, my friend has given me that final push I needed, as this particular place has got a bit of a walk to get to it, and he doesn't want to take me there unless he's sure I'll be able to manage it. SOOOO..... the quest to get more mobile has started.
I made a couple of square suncatchers this last week.... how difficult are they to get properly square !! A once 4" square ended up 3" square before I was satisfied it almost perfect lol. So I shan't be doing many of those I don't think. Instead yesterday I cut out a few more ladybird suncatchers, as they look really pretty with their little wire legs. I also realised yesterday that I'm running short of dark blue stained glass, so when I go to my daughters next I think a trip to my glass supplier in Leamington is going to be the order of the day.
Today my walk is going to be across a bit of the Breakwater Park if the weather stops dry, if it doesn't then it'll be Penrhos beach. When we go to Penrhos usually we park at the top to look over the sea while my dog goes for a wander. Yesterday it was quite busy there, so we had to park in the car park, which obviously confused my old dog totally, as when someone started up their car he went and jumped in their car by mistake !!! My daughter went to retrieve our dog and said sternly to him " What have I told you about getting in cars with strangers !!"
A few more photo's from my day out
A longer shot of the waterfall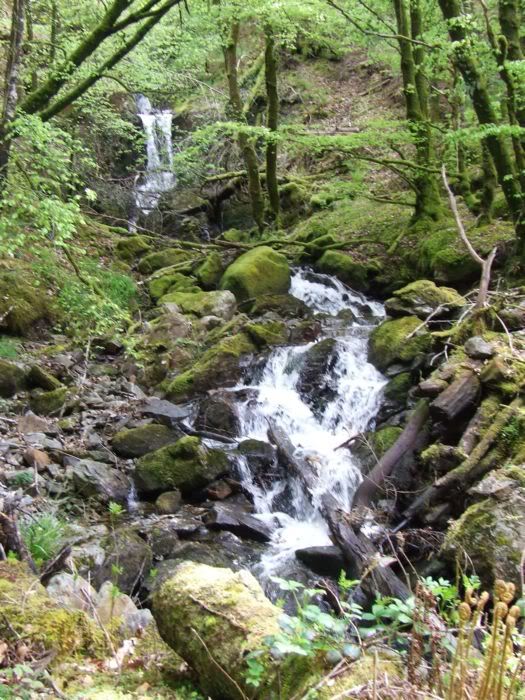 Some pretty ferns just about ready to uncurl
My favourite things to take photo's of fungi