Well yesterday morning found me on a quest to get into the town centre on my own. This might not seem much to most people, but for me it was a huge step towards gaining back a little bit of independence again. The furthest I've been on my own since we moved here 15 months ago has been a visit to my doctors surgery, which is about 10 mins away from my home. This latest quest of mine involved a walk which took me about an hour, including rests on the way. It was sods law that the route I worked in my head, turned out to be the longest possible way I could get to where I wanted to get to. When I got less than halfway, I realised that I'd stupidly forgotten my mobile, which meant that if I did get stuck and not able to get any further I wouldn't be able to get hold of my daughter to come and rescue me. That sent me into a bit of panic, but I knew if I went home to get it, I probably wouldn't get to where I wanted to go, so I soldiered on. Then when I got to the journeys end I found I was in the wrong flipping place grrrrrr, but I was able to get something else sorted out which was on my list of things to do, so it wasn't a totally wasted trip. I got back home going the right route and it took much less time.
When I got home I was shattered, but proud of myself. After chatting to my daughter for a while when I got home, she suggested we go off to a beach for another walk !!! I have to admit I doubted my chances of getting very far on this 2nd walk, but I was game anyway. We headed for the new beach we found the other day, but noticied a footpath veering off, so we decided to see where it led. This path led to another beach, much smaller than the one we were heading to, and even more secluded, so we were pretty chuffed about that. I even managed to scramble down some dodgy steps to get it ...albeit by sitting down and edging my way down lol. We were very surprised to find this beach was smoothered in shells of all kinds, shells on Angelsey beaches are pretty few and far between on most of them. We stayed there for a couple of hours enjoying the sunshine and trying to ignore the chilly wind that was blsting in our faces. The dog loved it there, the whole time we were there he was scrambling over rocks to find old crab shells to eat and paddling in the sea.
Once finished there we headed back to the car and decided to back to the Breakwater park to get a map of the walks there for another day. All in all it was a great day, and even though by night time I'd seized up completely and was in agony, it was well worth it.
My dog enjoying one of many paddles in the sea.
A beautiful photo my daughter took, it reminded me of some exotic foreign place rather than a little beach on Anglesey lol.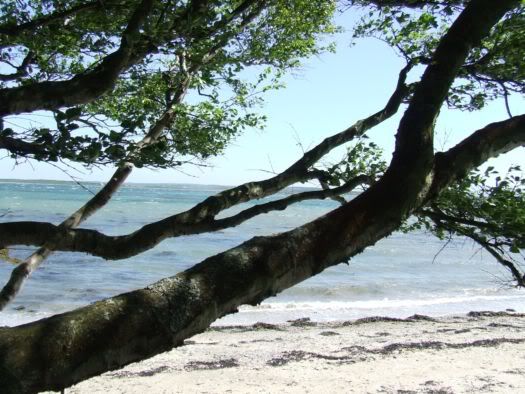 A photo of me that I actually like, which is very rare.