Yesterday was one of those days when every piece of glass I tried to cut either cracked or splintered. These days don't happen often but when they do, I just down tools as I know the pattern usually carries on all day.
My walk yesterday was done at Holyhead Breakwater park. Although I've been there a few times I've never actually walked round the park bit, I've always just stayed at the pond part. But today was different so myself, my daughter and our old faithful dog went walking round the park itself. It was great, because I'd taken my camera with me I was constantly looking for interesting things to photograph, which was good because it took my mind off walking lol. We found loads of nice things to photograph, I say we, because my daughter enjoys taking photo's too. The dog loved the walk too although he had problems with the funny kind of gates they had there. There was a few nice wood carvings which I wasn't expecting to come across too, my favourite being a bench that was carved like a shell. Next time we go up there I'm going to go in the tourist place where you can get little maps of walks there.
Here's a few of the photo's that were taken.
A lovely heart shaped fern frond.
A bee caught lurking in the undergrowth.
A pretty looking weed we found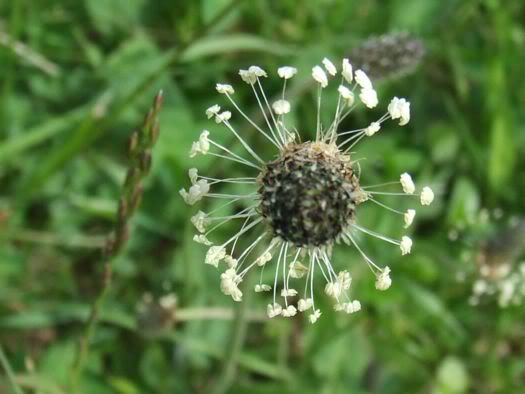 A gorgeous dandelion clock, ripe for spreading its seeds
Another odd looking weed.