Well I've just had a fantastic day. A good friend of mine took me out and we visited some stunning places, the thing I like best about this friend, is that he knows all the out of the way places that hardly anyone else knows about. Even the weather changed from being dull, grey and wet all week to being sunny all day.
The day started at 10ish and we went off towards Porthmadog, to a cafe we'd been to a good few times in the past, I'd been given strict instructions not to have any breakfast so I was starving lol, and it filled the spot perfectly. From there we went round winding roads, passing by stunning scenery and as I was told to shout up when I saw anything I wanted to take photo's of, I needed no more encouragement so there was lots of stopping and starting lol. We passed through somewhere we'd been previously and camped out for the night a good few years ago, I was sad to see that the forest close by it had been chopped down, and unlike most of the forests we passed through there was no sign of it being replanted either, such a shame.
After passing my friends ideal house, and I can see why it was that.... oh to win the lottery lol. We headed off to see a waterfall he wanted to show me. Even though he was hoping it would have more water rushing down it, I was quite happy with it. I love waterfalls, along with mountains and the sea they're my favourite things. The sun hardly ever gets to the side that the waterfall was on so everywhere was covered in a thick rich green moss, which only added to the magic of the waterfall. After this it was off to a picnic area he'd chosen for us to have our dinner. Although this place had been made more attractive for tourists by adding picnic tables and signs for woodland walks, there was only us there and we got to enjoy our sandwiches by a babbling trout stream listening to the birds tweeting away in the background.
Then it was off to visit a folly near the village of Portmerion, I wasn't sure whether I'd be able to actually get to the folly itself as it was up a smallish but steep hill. But where there's a will there's way and I managed it with a hand from my friend, but I did have to stop a few times lol. On the way up we walked through a beautiful bluebell wood, and saw the biggest rhododendron bush I've ever seen, it was in full bloom, a deep fushia pink and was absolutely gorgeous. By the time we got to the folly my legs were shaking like a leaf lol. So I had to sit out climbing up it to see the view, but even from where I was sitting they were amazing. All too soon it was time to make our way back down again, and as luck would have it we saw not one, but two lesser spotted woodpeckers, if only I'd have had a camera with a good zoom lens. I was very relieved that we didn't have to go down the slippy hill we'd climbed up as I'm sure I'd have ended up on my back !! Once back to the car we set off towards home, as we went the long way way round we passed through Cricketh and stopped for a welcome cuppa and sat overlooking the sea while we drank it. All too soon it was back on the road and we were heading back to Anglesey, I really didn't want the day to come to an end, I'd enjoyed it so much. But even then, my friend managed to surprise me at the last minute, and it became the perfect end to a perfect day ;o)
The babbling stream where we stopped for our dinner.
One of the photo's the stunning waterfall.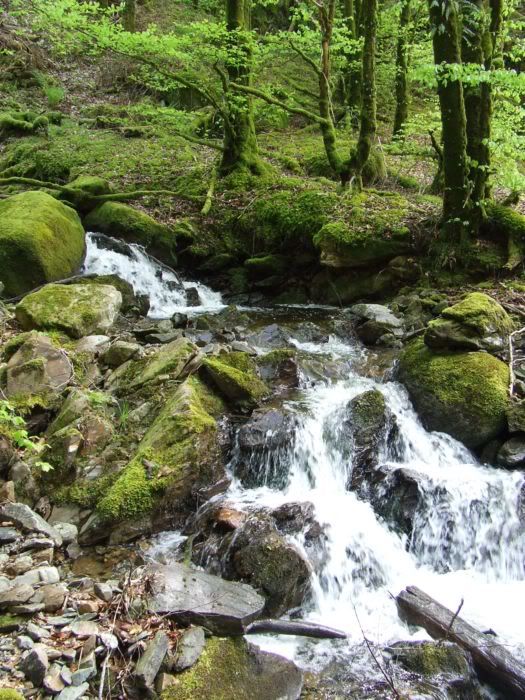 The folly near Portmerion.