Well despite my best intentions I still haven't got much further with mosaicing the boots lol. I seem to going through a phase of getting distracted very easily. I have cut a few more pieces of glass and mirror ready to stick on the boots though. I do have a bit of a quandary though, should I do totally different designs on each boot and sell them seperately, which might make sales easier. Or do I do them identically and sell them as a pair hmmmm .....
Some of the distractions is reading blogs. How addictive are they !! I go to one blog and then start flollowing a list of blogs that person is interested in and before I know it, half a day's gone lol. I have such wide variety interests I'm sure I could spend all day on the blogs. I haven't even dared start looking at the photography ones, apart from my friend Andys one.
Todays photo's are just a small selection of the fused glass pendants I've made. All of them are already sold, but still might be of interest to someone who enjoys fusing.
The first is a pendant with extremely small pieces of dichroic put on in a design to look like patchwork. As the pendant was only about 1.5" long that might give you an idea how small each patchwork piece is.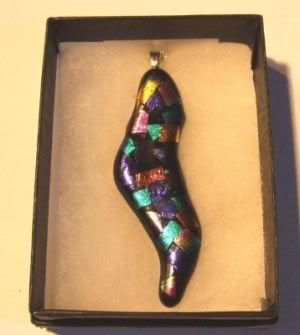 The next one is a mixture of frit ( small pieces of glass )and dichocic glass.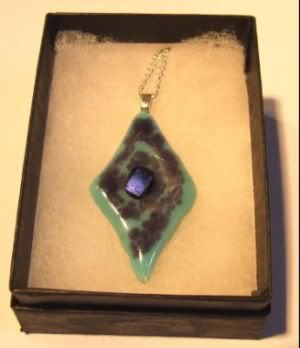 Last is anothre design similar to the previous one.