Well my plan to spend yesterday cutting glass went to the wall. Instead I spent the day in a daze of pleasant day dreams lol. Hey ho these things happen for a reason I guess..
Yet another day has passed with no activities as I needed to go shopping and make doubly sure I had every thing I need to last me till 16th Feb. My daughter is due to go away till then and without her to take me to the shops I'm pretty much housebound. So instead of my haphazard shopping day this was one of almost military precision, a list was made and everything crossed off as it landed in the shopping trolley. After housework, shopping is my next most hated thing to do. If I had a reasonable amount of money to spend it might be less of a chore. But as it is, there's only a very small budget left for food after the bills have been paid. But its all done and put away now and if I run out of anything it's just too bad lol.
Today for a change I thought I'd show off some photo's of my son and daughters crafts.
This first photo was done by my son, this is a model of a street fighter motorbike done entirely of matches, even though some parts at first glance look as though they aren't. This took him many many hours, putting all the painstakingly small detail on it. Even the spark plugs come out. It measures approx 18" long by 10" wide. This is for sale, if anyone is interested please leave me a message.
The picture frame in this next photo has also been done by my son, entirely of matchsticks. This measures 12" x 8".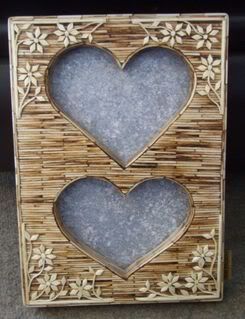 Last but not least is my daughters creations as you can see she shares my love of glass and the biggest sculpture is made from small 1" long x 1/4" wide pieces of glass, which are glued and stacked, indivually. This is approx 18" high x 10" wide at the bottom.