Despite most of the UK getting a good healthy dumping of snow, here in Lancaster all we got was a few hours of very fine fairy dust type snow, which had no chance of settling. As I'm a lover of snow I was very disappointed. Especially as my daughter in Anglesey was posting loads of photos of all the snow they had there. If it wasn't for the fact she's got a tyre on the edge of being legal, I would have been hot footing it back to Anglesey as fast as I could !!
Last week was a very busy week for birthdays !! It was Jim's oldest daughter Kate's birthday on Monday, and also my granddaughter Rheanna's, Tuesday it was Jims youngest daughter Mary's 21st birthday and my grandson Jamie's, and then Jim's on Friday !!!
Saturday night, it was off out on the town to the
Kashish restaurant.
I have to say I was extremely impressed with the decor in there, it was amazing. I couldn't fault the service, it was very polite and attentive. However as there was 12 of us, we were upstairs and when the main course arrived brought up from the kitchen downstairs, Jim and his daughter Rach's biriani meal was slightly cold round the edges, personally I would have complained but they didn't want to. Everyone else's was fine though, and the nan breads ( as you'll see from the photo's ) are the biggest I've ever seen at about 18" long !! At the end of the meal, a waiter brought over what we thought were peppermints ....wrong lol. Much to our amusement the waiter poured really hot water on the "peppermints" and they swelled up to 3 times the size and turned out to be wipes to wash our hands with.
The birthday girl herself.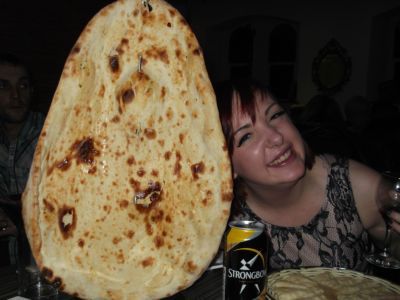 Front left is Jims daughter Kate, who's birthday it was on Monday.
The peppermints lol