Last Thurs saw my lovely Jim making yet another trip to see me. This time we were blessed with some reasonably nice weather for a change, so we made the most of it and went on a couple of wanders.
For our first walk we decided to see if we could get as far as Moel Y Don, with my mobility scooter fully charged. Right from the very start our plan was thwarted by there being no footpath for me to go on, to get to the turning by Star. The road was also a no no as motorists were going so fast, we didn't think it would be safe enough. So we took the turning before the one we'd planned, a little country lane. The hedgerow was very interesting and being much lower than I would have been had I been walking, I spotted lots of interesting things I might have missed otherwise. Although we didn't have a clue where this road lead, it became pretty obvious it was a well used road. It eventually led to the A4080 which is the main road to Newborough, and guess what ...no footpaths again !! So I was forced to trundle along on the road facing on coming traffic. Luckily it was pretty uneventful, but there were a few times when I wondered about our wisdom of coming on this busy road. We got as far as Plas Newydd country house and gardens, and decided that I hadn't got enough battery power left for us to get to Moel y Don, which was a shame. So into Plas Newydd we went, unfortunately the house and grounds were closed that day, but the cafe was open !! So we grabbed a cup of tea and had the picnic we'd brought with us. After spending an hour or so taking photo's, we decided it was time to make our way home again.
On Jim's last day we decided to go to one of our favourite places, a little beach close to my home. This is a favourite place of ours, there's never anyone else there and I can manage to get my scooter actually on to the beach itself. We sit watching the boats, the birds and this time I even managed to catch the train going under the A55 which I've never seen before, sadly I also managed to catch a pylon in the photo too, but I thought it'd still be worth putting up to show you. On our way back home Jim spotted a beautiful big bracket fungi on a tree, that had to be worth taking a photo of to share with you. It was about a foot wide, and six inches deep.
All too soon it was time for Jim to go home again, it seems to get harder and harder to leave each other, something neither of us had banked on happening. But thanks to the power of the internet, we can talk every day online.
The train going under the A55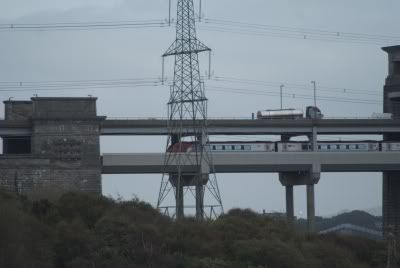 A lovely butterfly at Plas Newydd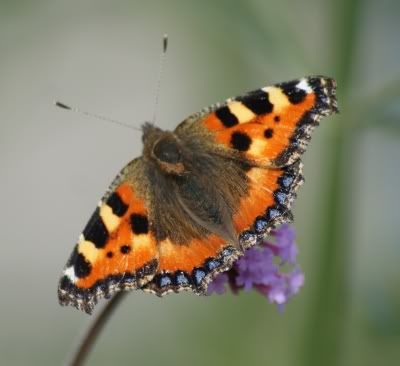 A couple of autumnal photo's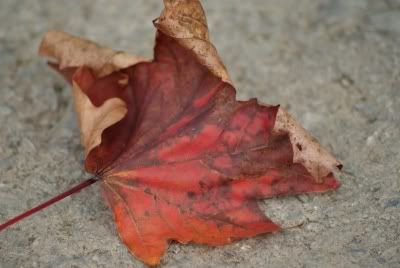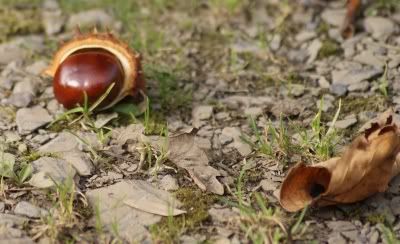 Jim hunting for little treasures for our future art project.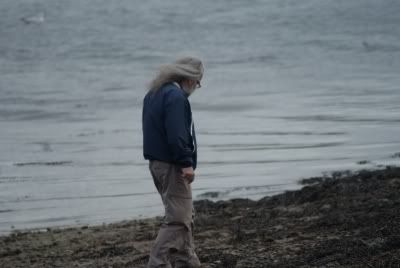 Finally the beautiful bracket fungi.