Arhhhh it's always good to be back in your own home. I had a great time while we were away, but there's always that longing to be back home again.
We left here on the Weds with the sun blazing down on us, when we were about 9 miles away from my daughters house we got stuck in traffic and my daughters car started to overheat the last thing we needed on a packed motorway !! I quickly turned on the heater full blast and luckily we managed to make the bit of our journey without mishap, but we were both boiling hot as we daredn't turn the heater off lol.
Weds afternoon we went over to Acocks Green to see my son Ben and friends Martin and Mandy. We had a lovely BBQ while we were there too. Thurs we went off to see my friend Emma and her boyfriend Steve. Emma was going to cut my hair for me and my daughter was Jenny was doing a tribal dragon tattoo on Steve's arm for him. We also rounded off the day going to see Rich my oldest son and his girlfriend Georgie, so all in all it was a lovely day. Friday we dropped my daughter Jenny off to do yet another tribal dragon tattoo on the cousin of Steve, while me and my other daughter went to visit an old friend of mine who I hadn't seen for almost 15 years. That was a real blast from the past, and we had great fun catching up with all that's gone on in each others lives. Then it was off to my oldest sons again, who funny enough only lives just up the road from the friend I hadn't seen for a long time. While we were there Jenny did yet another tattoo of my sons childrens names on his arm, and his girlfriend cooked us a lovely taco feast for dinner ...it was yummmmmy !!
The weekend of course had been reserved for the festival we planned to go to. The highlight of this day was that 6 out of 8 of my kids managed to make it there, and also we got the chance to met up with lots of old friends. One of my sons Jed, had injured his back moving some scrap metal and was in agony for most of the weekend, as he's probably the most active out of all my kids, it was sad to see him in so much pain. By the Sunday the pain had eased off a little thank goodness. All in all it was a great festival and two of my friends Jo and Sharron are coming up to see me during the summer too.
As photo's have been a little low on the ground here's a selection from our time away.
Two of the four tattoo's my daughter did.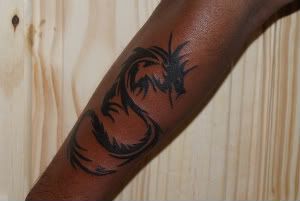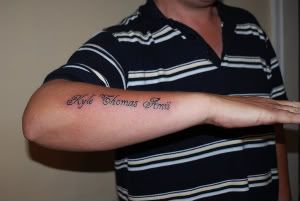 My lovely friend Jo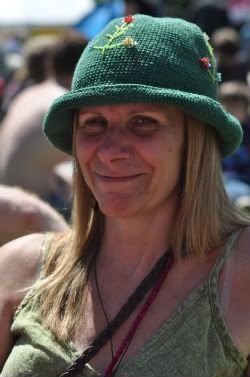 My daughter Jenny and all in pink is my grand daughter Jo and her two children ...my great grand children.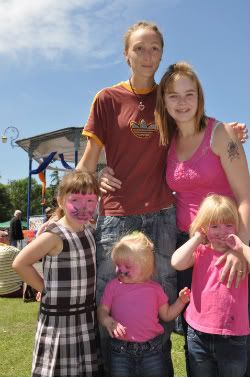 One of my favourite photo's of the weekend, my daughter Jenny with son Jed.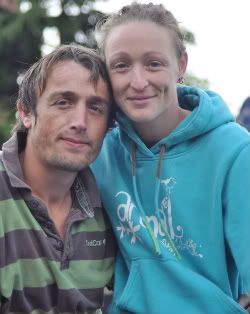 My son Rich and his girlfriend Georgie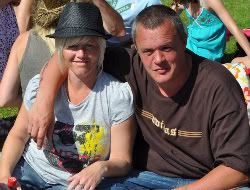 and finally me and my mate Al.